Which superhero from the Marvel Cinematic Universe (MCU) is the world's most popular? Zavvi's new study reveals all and you'll be surprised by the results.
The MCU is continuing to expand. Having produced some of the highest-grossing films of the 21st century, including Avengers: Endgame and Spider-Man: No Way Home, the franchise will be launching its final movie of 2022, Black Panther: Wakanda Forever, on 11th November in cinemas worldwide.
We've taken a look at the most frequently searched Marvel superhero using Google Adwords to see which characters are the most searched for right now.
The results will (hopefully) put arguments to rest. Do you agree?
United Kingdom And Europe
Demonstrating how far the character has come, our results show that Hawkeye has hit the bullseye in the United Kingdom, where he is considered the number-one favourite. So, who is Hawkeye?
This purple-clad hero, also known as Clint Barton, is the greatest archer in the Marvel Universe. Widely recognised for being able to turn any object into a weapon, Hawkeye can also fire insanely precise shots from a distance with his bow and arrow.
He is a brave and loyal Avenger (except for when he is mind controlled by Loki) and always wants the best for others. In Age Of Ultron, Hawkeye decided to sacrifice himself by stepping in front of a bullet flying towards a child, and though Pietro took the bullet for him, we can't help but recognise Barton's bravery.
His character may not be the most humorous or visually striking, but it's always great to have someone who is kind natured and caring watching over you.
Meanwhile in Europe, Iron Man's Arc Reactor shines brighter than the rest, with 26 countries calling him their favourite superhero.
This result is hardly a surprise. Made in 2008, Iron Man was the first ever movie in the MCU, and because of its success, it was followed by two sequels: Iron Man 2 (2010) and Iron Man 3 (2013).
Tony Stark — better known as Iron Man — is a talented inventor, business owner, billionaire industrialist, and philanthropist.
His eponymous film shows how Stark is transformed into a hero after being kidnapped by the Ten Rings (a terrorist organisation) and is forced to create a devastating weapon.
Using his exceptional knowledge of technology, he builds a suit of armour, which allows him to escape captivity.
Stark's attitude to solving problems continues throughout his superhero career. He doesn't give up. Even when his suit is severely damaged by Thanos in a later battle, he keeps fighting, knowing that he is outmatched by a far superior enemy.
Stark's armour gives him incredible abilities (such as speed, agility, strength, and supersonic flight), all of which make him a fearsome foe when combating enemies like Iron Monger and Whiplash.
Australia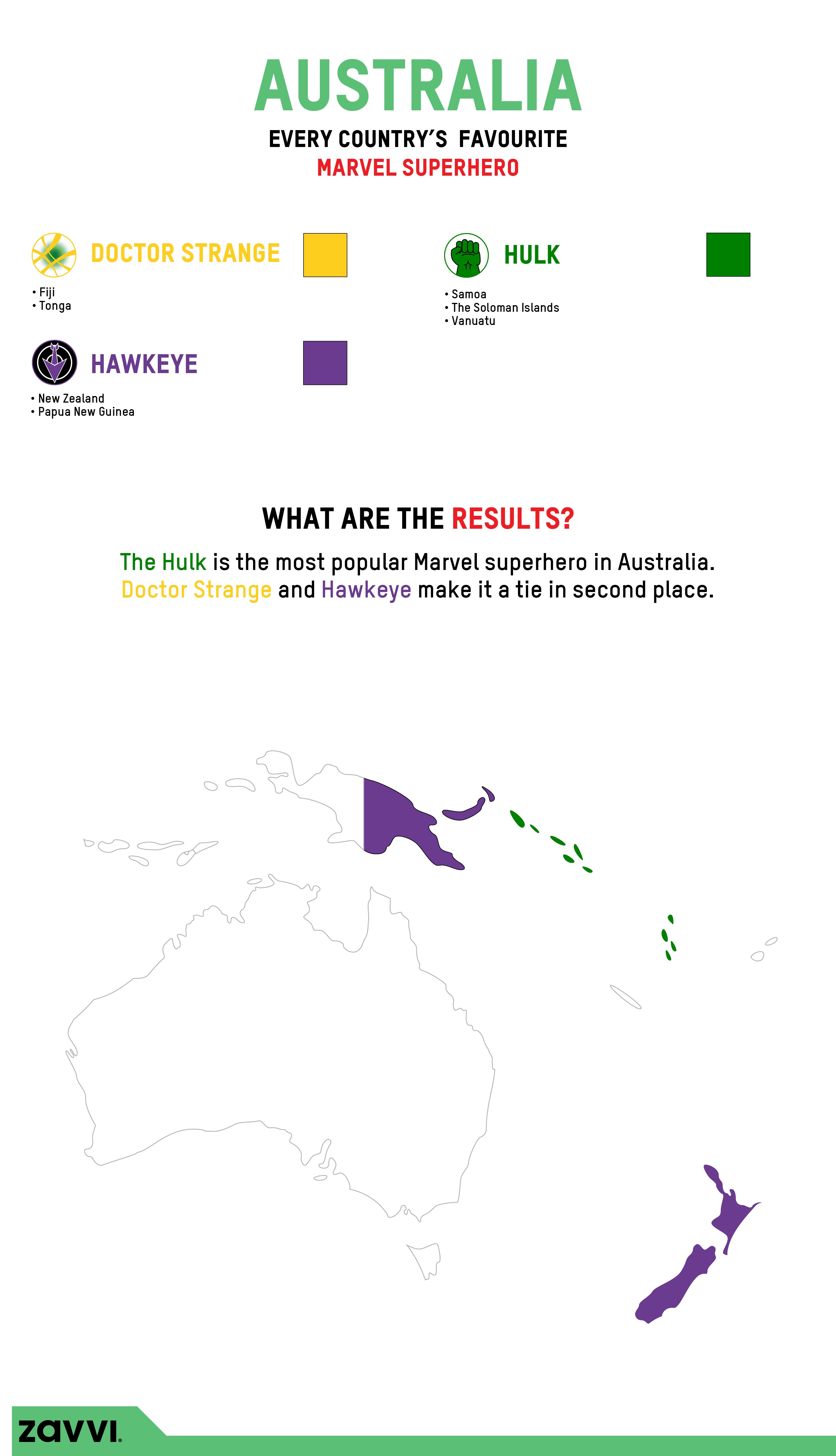 Next up is the green-faced rage monster himself: the Hulk, who is the most searched for superhero in Australia.
The Hulk is a compelling character and without a doubt one of the most awesome superheroes of all time. This powerful giant is well known for not having control over his behaviour, also possessing infinite strength, which builds alongside his rage.
Though he has his own personality traits, the Hulk is the alter-ego of Dr. Bruce Banner, who is famed for his studies of nuclear physics and gamma radiation. Banner's most prestigious project during his time working with the US army was developing the very first gamma bomb.
When in his monstrous form, Banner loses his capacity to make rational decisions, and it is this aspect of his character that makes him so compelling.
He is constantly at odds with himself as he tries to prevent the beast from surfacing. However, he eventually manages to find a balance, learning that the physical power of his other self can be harnessed for good.
Asia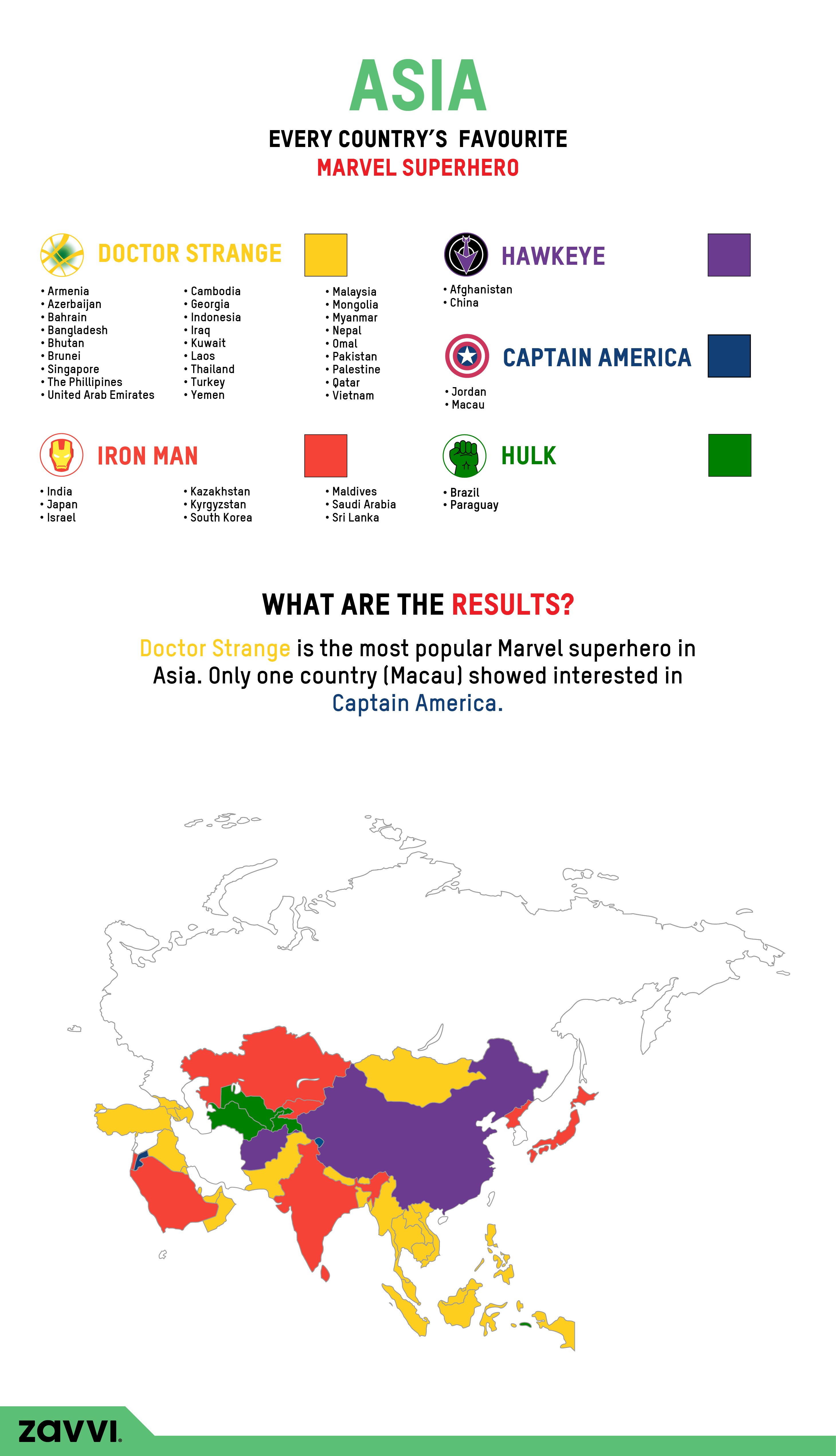 As of 2022, Benedict Cumberbatch, who plays Doctor Strange, is searched for the most in 27 countries. His rising fame, hand-in-hand with a growing footprint in the MCU, has seen his popularity sky rocket — so much so that Doctor Strange: In The Multiverse Of Madness made more than Iron Man in its opening weekend.
An arrogant neurosurgeon, Stephen Strange finds his life forever changed after a serious car accident. He loses feeling in his fingers, thereby making him unable to continue his profession.
When Western medicine fails to cure the nerve damage, Strange explores other avenues, embarking on a journey to Kamar-Taj to seek out someone whom he learns to be the Ancient One.
With the help of her teachings, Strange begins to master the Mystic Arts, which enables him to conjure magical spells for both defence and attack.
Not only is he able to create complex shields, but he can also see into the future with the aid of the Eye Of Agamotto, one of the powerful Infinity Stones.
Africa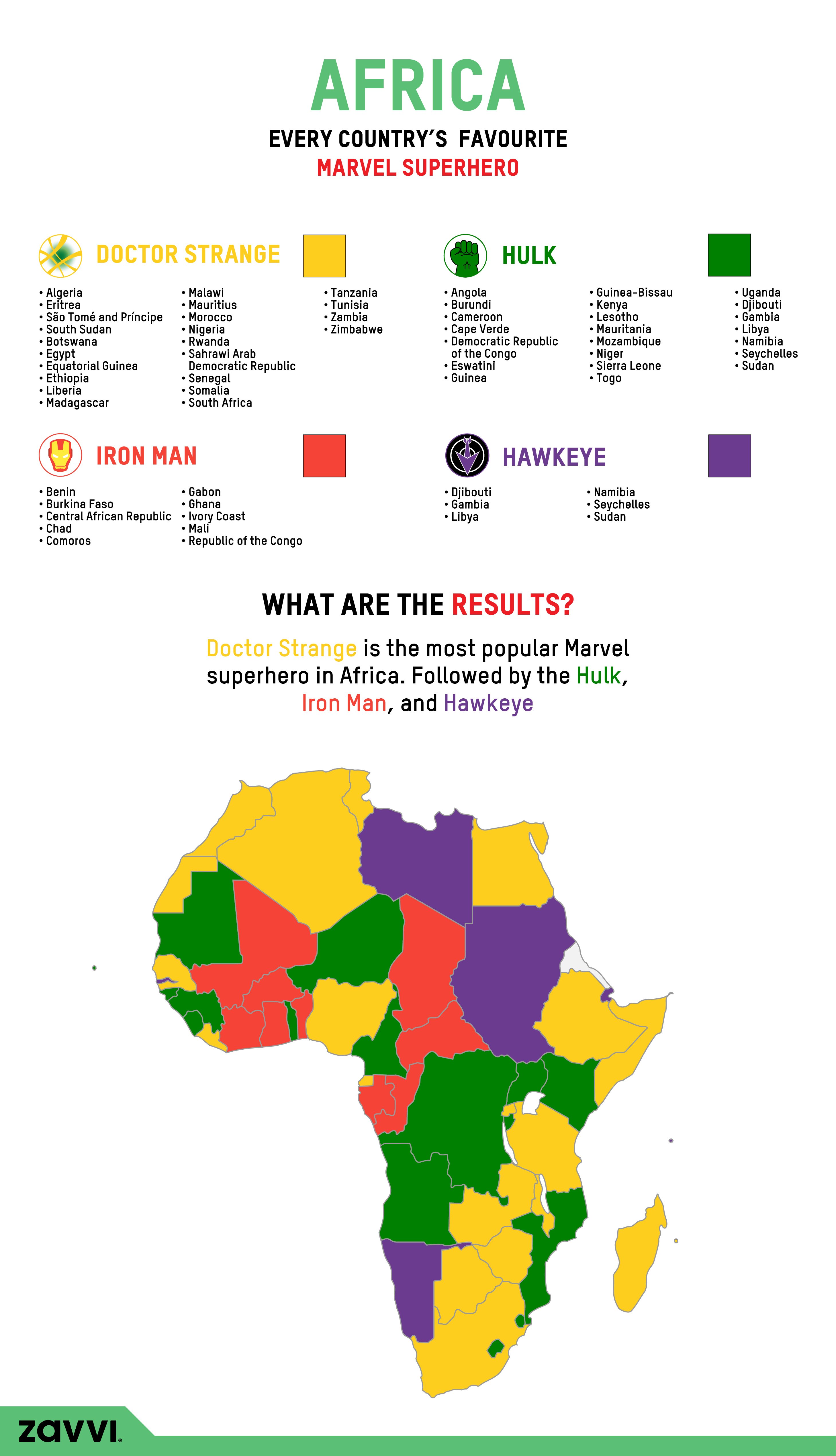 Again, Doctor Strange is the most searched for superhero in 20 countries, accounting for 36% of searches on the continent. On a national level, Hawkeye ranks as the least popular Marvel superhero in Djibouti, Gambia, Libya, Namibia, Seychelles, and Sudan.
North America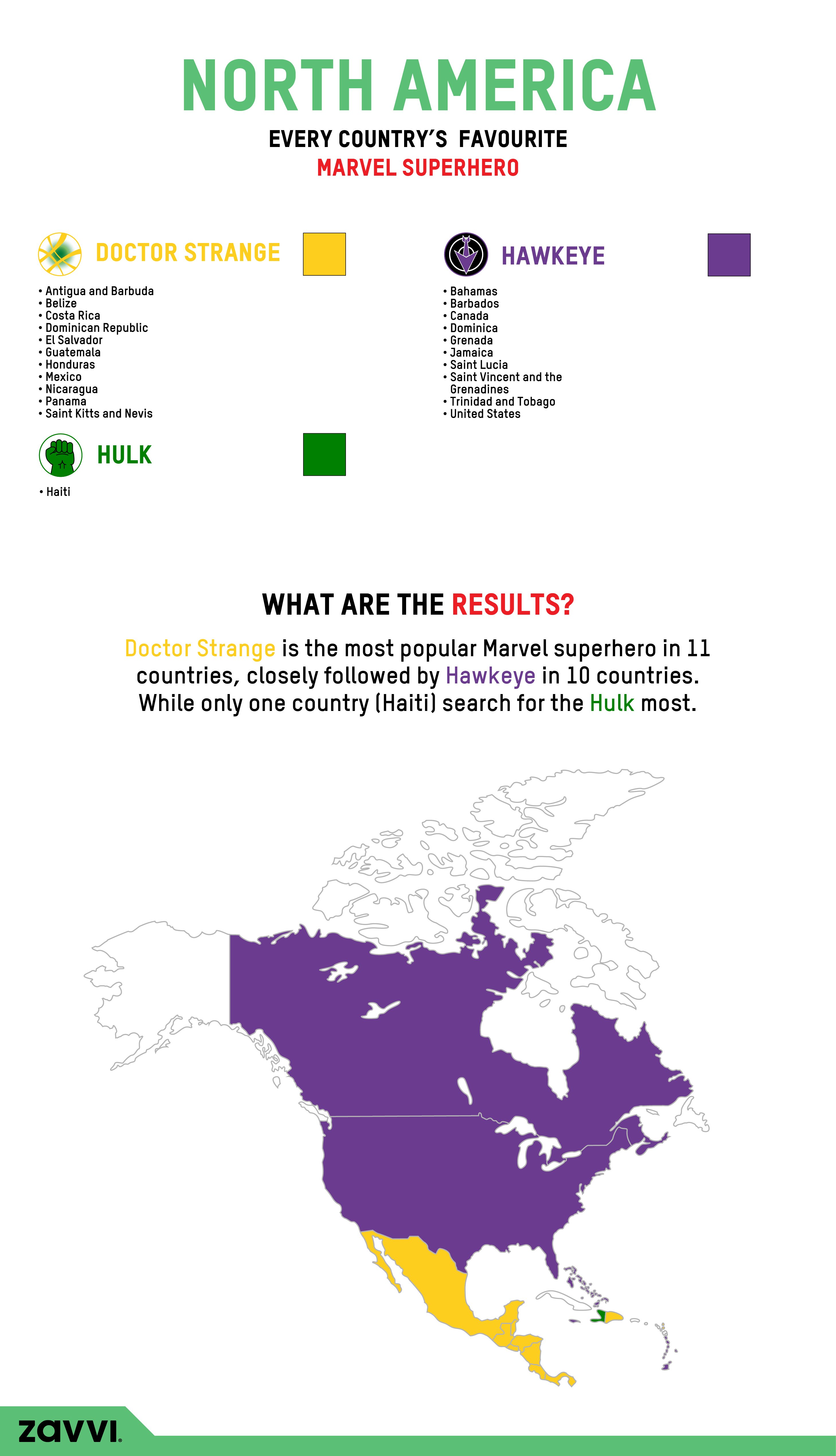 According to Google Adwords data, Doctor Strange is the most popular Marvel superhero in North America, accounting for 48% of searches on the continent. Hawkeye, on the other hand, accounts for 43% of searches on the continent.
South America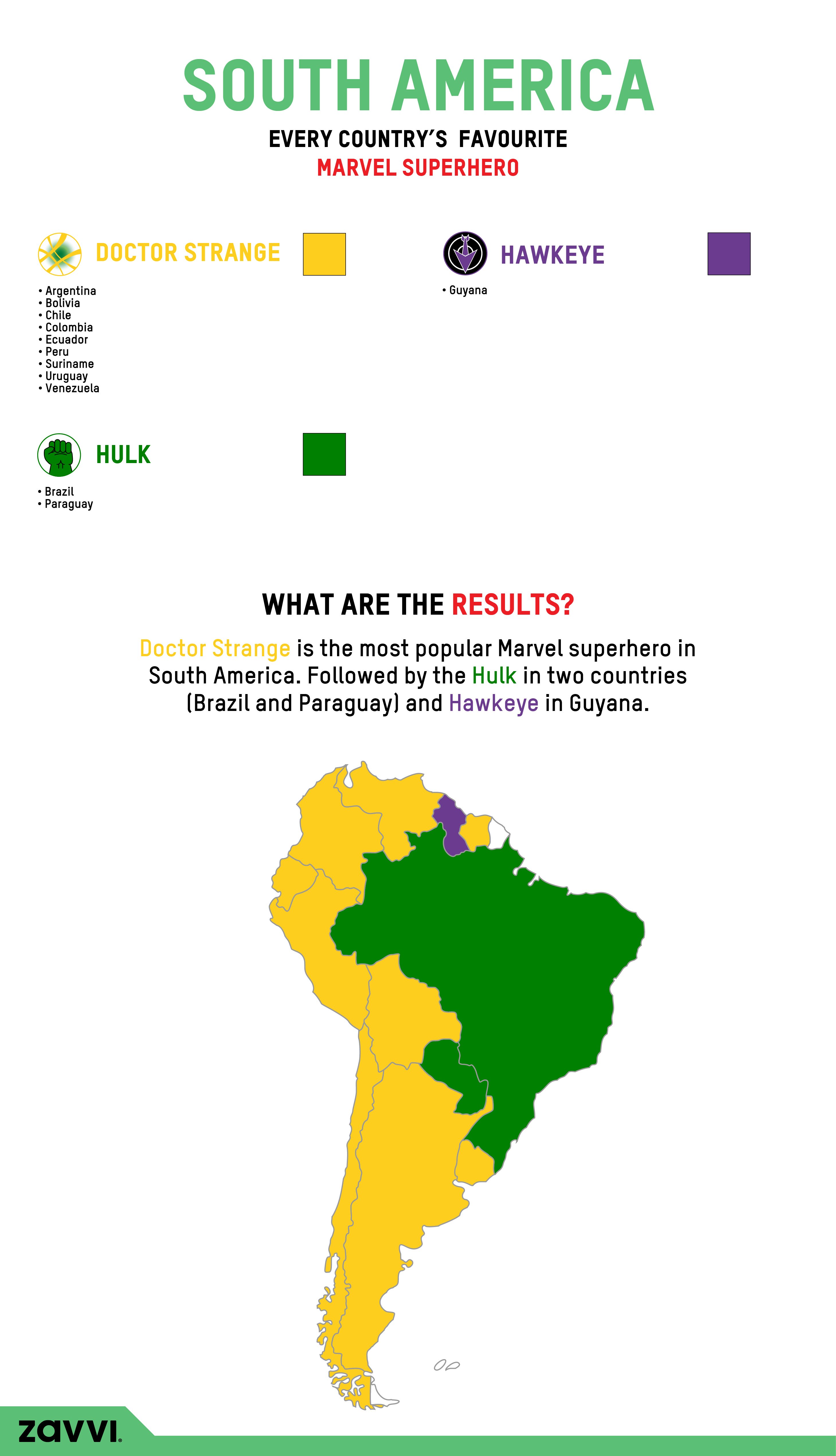 Doctor Strange also ranks as the most popular here and accounts for 75% of searches on the continent. Surprisingly, Hawkeye is the least popular, though he is the most popular in United Kingdom.
Methodology
To determine the most popular Marvel superhero in each country, we looked at the average monthly search volume taken from Google Adwords.
Note: some data was not available for certain countries — for example, Russia.