From Silence Of The Lambs (1991) to Scream (1996), these ten iconic '90s Halloween movies will provide you with all the nostalgia you need this spooky season.
The '90s provided us with a multitude of fantastic movies across various genres, but if you're hunting for a scare this Halloween and want to branch out from the current century's offerings, the '90s is a decade that offers a wide selection for a terrifying night in.
Without a doubt, the spookiest day of the year has inspired some of the most frightening films ever produced. If you're a fan of horror classics, particularly those that defined your childhood, let us reintroduce you to the top ten best '90s Halloween movies.
From the decade that revolutionised horror films, here are the top ten best movies that are bound to spook you.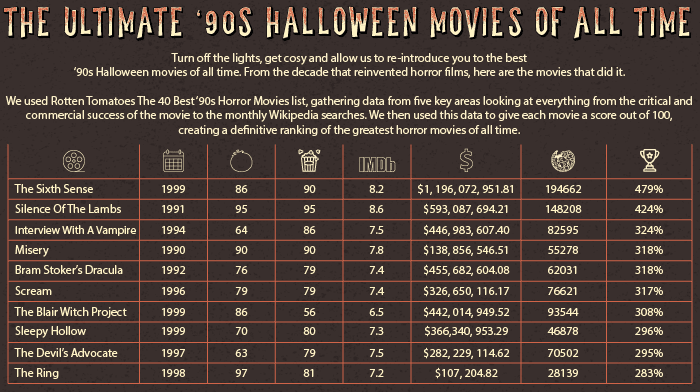 We researched the most unforgettable, nostalgic horror movies from the 1990s and compared 40 films from the Rotten Tomatoes list, scoring each against five criteria: Rotten Tomatoes critic and audience, IMDb score, world box office gross (adjusted for inflation), and monthly Wikipedia views.
Using this data and a weighted ranking system, we assigned a score out of 100 to each film.
1. The Sixth Sense (1999)
Director: M. Night Shyamalan
Who's in it? Bruce Willis, Haley Joel Osment, Toni Collette, Olivia Williams, Mischa Barton, Donnie Wahlberg
What's it about? This psychological horror thriller tells the story of a troubled, solitary teenager named Cole, who claims to be able to see and communicate with the dead.
Malcolm (Bruce Willis), a child psychologist, treats him as a patient and is completely unprepared for what is to come.
The story of this movie relies on your imagination. Shyamalan crafts a tale that is truly captivating and without giving too much information, each scene adds a layer of complexity.
Grossing $673 million worldwide, The Sixth Sense received six Oscar nominations for its acting and plot twist, so it's no wonder that this film received a top score of 479%.
2. The Silence Of The Lambs (1991)
Director: Johnathan Demme
Who's in it? Jodie Foster, Scott Glenn, Sir Anthony Hopkins, Ted Levine, Brooke Smith, Diane Baker, Anthony Heald
What's it about? The plot of this film revolves around a serial murderer who butchers his victims. A young female FBI trainee is on the hunt for serial killer Buffalo Bill, but in order to arrest him, she seeks guidance from Dr. Hannibal Lecter, an imprisoned psychotic cannibal.
Demme ensures that the film feels as realistic as possible, meaning it will send shivers down the spine of every viewer, striking fear into their hearts.
With a solid 424%, this film is worthy of second place.
3. Interview With The Vampire (1994)
Director: Neil Jordan
Who's in it? Christian Slater, Brad Pitt, Tom Cruise, Thandiwe Newton, Kirsten Dunst, Antonio Banderas
What's it about? Based on Anne Rice's renowned novel, this gothic horror depicts the story of a vampire who transforms a plague-ridden infant into a being like him. If you enjoy violent and gruesome films, this is the one for you.
The star of the movie, Cruise, is alluring, drawing us in whilst ensuring the film doesn't glamourise the vampires. Rice was apparently mortified to hear that Cruise was playing the lead role of Lestat, however, his wicked character worked well in this adaptation.
This film lands third place with a score of 324%.
4. Misery (1990)
Director: Rob Reiner
Who's in it? James Caan, Kathy Bates, Richard Farnsworth, Lauren Bacall, Frances Sternhagen
What's it about? This psychological thriller follows Paul Sheldon (James Caan), a famous author who is saved from a car accident by a fan who is infatuated with his work. Paul soon realises he is being held captive by her.
The film, based on Stephen King's (1987) novel of the same name, was a box office hit. Kathy Bates as Annie puts on one hell of a performance, which won her the Best Actress Oscar at the 63rd Academy Awards.
With a score of 318%, this thriller makes the cut as one of the best '90s Halloween horror movies of all time.
5. Bram Stoker's Dracula (1992)
Director: Francis Ford Coppola
Who's in it? Gary Oldman, Keanu Reeves, Winona Ryder, Anthony Hopkins
What's it about? When Dracula's wife commits suicide, he pledges to avenge her death, but instead encounters his lost love, Mina (Winona Ryder), and begins to wreak havoc on foreign lands.
What makes this one of the best '90s Halloween horror movies is its superb cinematography, costume design, and make-up. It has a very gothic feel that is at times intimate, with moments that help connect you to the love story.
It is clearly a favourite, as it shares fourth position with Misery (1990) at 318%.
6. Scream (1996)
Director: Wes Craven
Who's in it? Courtney Cox, Drew Barrymore, Neve Campbell, David Arquette, Matthew Lillard
What's it about? Wes Craven, the maestro of horror, reinvented the "meta slasher whodunnit" movie in 1996. A crazy serial murderer known as "Ghostface" terrorises a group of teenagers in a small town in this modern horror classic.
Craven redefined the horror genre with Scream when it was stuck in a rut and it is just one of his many masterpieces- he also directed the breakout hit A Nightmare On Elm Street. His brand of meta-horror influenced many other franchises to create horror comedies, like Scary Movie.
Following the success of the Scream sequels, Paramount have announced that the sixth instalment will be arriving on our screens as early as next year – we can't wait. With a rating of 317%, this movie makes it to sixth on the list of best '90s Halloween horror movies.
7. The Blair Witch Project (1999)
Director: Eduardo Sánchez, Daniel Myrick
Who's in it? Heather Donahue, Joshua Leonard, Michael C. Williams, Ed Swanson, Patricia DeCou
What's it about? Three student filmmakers trek into the Black Hills woodland to create a documentary about the local legend of the Blair Witch. The kids vanish and their cameras are found a year later. The reconstructed footage is what the audience sees.
While it initially received mixed reviews, it grossed $249 million, making it one of the most profitable independent movies of all time. What made The Blair Witch Project so unique was that the acting was largely improvised, with the actors filming themselves to showcase the movie as found footage.
With a score of 308%, this picture is ideal for fans of supernatural horror.
8. Sleepy Hollow (1999)
Director: Tim Burton
Who's in it? Johnny Depp, Christina Ricci, Miranda Richardson, Michael Gambon, Casper Van Dien
What's it about? A New York investigator is dispatched to the little town of Sleepy Hollow to look into a string of inexplicable deaths and even more terrifying beheaded victims.
The detailed costume design, beautiful periodic sets, and stunning performances by the cast helped contribute to the success of Sleepy Hollow. The special effects used on the headless horseman were so surreal it had us asking whether it was real.
This is another great Johnny Depp film that exudes a Halloween mood, complete with pumpkins, misty roads, and a frightening village. It received a 296% rating.
9. The Devil's Advocate (1997)
Director: Taylor Hackford
Who's in it? Keanu Reeves, Al Pacino, Charlize Theron, Jeffrey Jones, Judith Ivey
What's it about? Kevin (Keanu Reeves), a young Florida defence lawyer, gets a job at a prestigious New York law firm. His wife follows suit, but she comes to loathe the city and Kevin's job.
Haunted by diabolical spirits, Kevin soon realises that the proprietor of the firm is the devil.
Al Pacino really nails his role as the devil. His performance moves from gentle to extreme as he tries to convince Kevin to leave everything behind and take his place at his side.
The Devil's Advocate won the Saturn Award for Best Horror Film and gained a score of 295%.
10. The Ring (1998)
Director: Hideo Nakata
Who's in it? Nanako Matsushima, Hiroyuki Sanada, Rikiya Otaka, Miki Nakatani, Yuko Takeuchi, Hitomi Sato, Yutaka Matsushige
What's it about? A journalist works against the clock to unravel the mysteries of a cursed video clip. After seven days of watching, the videotape is said to kill, and so the death clock begins to tick.
Thanks to Nakata's The Ring (also known as Ringu), Japanese horror found popularity with international audiences. The fear of the unknown and tense build-up with the video tape leaves audiences on the edge of their seats.
This film has an overall score of 283% and is based on a real Japanese ghost story from the 16th century.