Warning: this article features spoilers for the first episode of The Boys season three.
The Boys has always relished leaning into controversy with graphic violence and imaginative (but disturbing) set pieces, inspired by the heinous comics of the same name.
Who can forget Translucent exploding after having C4 packed inside him? Or Homelander letting a plane crash into the Atlantic Ocean? Or the gang entering a whale? Or… okay, you get the picture.
Well, our favourite boys are back with a bang for season three on Prime Video and showrunner Eric Kripke certainly knows how to make a stunning return.
The new season kicks off with Billy Butcher (Karl Urban), Frenchie (Tomer Capone), and Kimiko (Karen Fukuhara) monitoring so-called 'heroes' for the Federal Bureau Of Superhuman Affairs. To make things even more fun, they're working for none other than Hugh Campbell (Jack Quaid)… awkward.
In the premiere we see the trio investigate Termite (Brett Geddes), a shrinking hero like Marvel's Ant-Man. Termite hosts drug-fuelled parties with his boyfriend, and they have a unique sex position where he shrinks down to climb inside his partner's penis, because of course he does.
Unfortunately, Termite sneezes while inside his boyfriend and accidentally grows back to full size – completely eviscerating his lover in a torrential shower of blood and guts.
It's an unhinged scene guaranteed to shock audiences, which creator and showrunner Eric Kripke revealed to us capitalised on a popular meme.
He explained to Zavvi: "If we're spending like three weeks or a month breaking an episode, we spent like the last 72/48 hours on thinking 'what's going to be crazy?' So, we knew we needed Kimiko and Frenchie to fight a superhero, but we hadn't stopped to think about which one.
"And we're going through them asking 'what are the big ones that we haven't done yet?' And someone said, 'well, we've not done Ant-Man'."
You can see where he's going with this… Oh yes, we're talking about that Ant-Man/Thanos joke…
"At the time there was that ongoing meme of like, 'why doesn't Ant-Man just crawl up Thanos' butt?' Then it became, 'well [Termite] should crawl up his butt and explode him.'
"Then someone said, 'isn't that a little too similar to what we did to Translucent?' It's so funny when someone pitches an ass explosion and then the other person is like, 'done that'."
But that's The Boys in a nutshell, really.
Kripke reveals that in scale this scene compares to season two's spectacular whale moment: "Someone said, 'you know, that means he has to crawl up his penis' and everyone had the same visual. We had to build that which was this season's whale. It was amazing."
So that giant penis was a physical set, as Kripke tells us: "It's like 11 feet tall and 30 feet long. It was just this massive, massive penis. When he's inside the urethra, like he's really inside it. And it cost so much money.
"That's just exhibit #4000 of why I'll never have a better job because I get to spend stupid amounts of money building a penis the size of a train car."
Now the rest of the season just has the difficult job of surpassing the high bar this scene set… we can't wait to see what they deliver!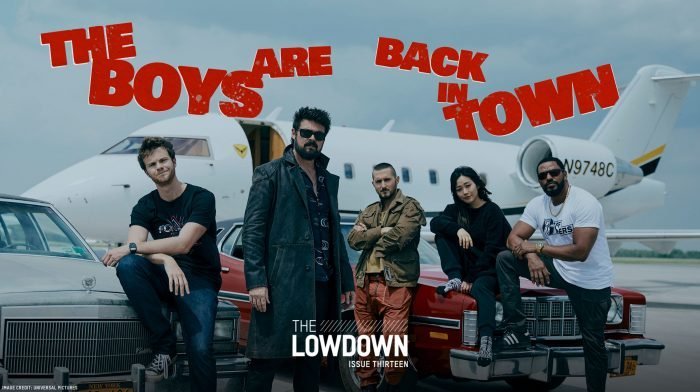 Read our full interviews with Kripke, Karl Urban, Jensen Ackles and more in the latest issue of our free digital magazine The Lowdown.
The Boys airs weekly on Prime Video from 3rd June.