The latest Sonic The Hedgehog film has arrived on 4K, Blu-ray, and DVD so you can now relive the adventure at home.
A smash hit success at the box office earlier this year, audiences loved how Sonic The Hedgehog 2 raised the stakes as our hero faced off against the evil Dr. Robotnik (Jim Carrey) and foil Knuckles (Idris Elba).
Thankfully Sonic (Ben Schwartz) wasn't alone for this battle as fighting alongside him was adorable new addition Tails (Colleen O'Shaughnessey) who quickly stole the show.
However, Sonic remains at the heart of the series, with the story here following our hero as he tries to find his purpose in the world. As Schwartz tells us:
"In the first movie he's a really excitable kid, who didn't have any friends but wanted so badly to be part of this world. In the second, he wants to be a superhero, but he's just a kid growing up, he doesn't like to be told what to do, he's learning what it's like to have a family.
"Sonic wants to save the day, but he can't do it by himself, he's taking too much on. He learns that he has to find his team, and if you work together, you can accomplish even bigger things."
With Sonic growing older his relationship with his newfound family shifts. James Marsden, who returns as Tom, explains: "Last time they were buddies, but here Sonic is more eager to use his powers and wants to do everything by himself.
"He sneaks out at night pretending to be Batman, being reckless. Tom responds to that, so they become more like father and son."
Sonic's family also grows in the sequel as he's joined by Tails and Knuckles, both of whom play key roles in our hedgehog's search for his identity.
Just like Sonic, they too are outsiders looking for connection, but have different ways of pursuing that journey. Tails looks up to Sonic as his idol, which is new territory for our hero as he is used to operating alone.
Having voiced Tails in the games since 2014, O'Shaughnessey brought his characterisation over to the movie: "The big differences are the situations he's facing and where his relationship with Sonic is. But my approach with the character was the same.
"It was great working with Ben on that, even though we were via Zoom most of the time! He's so funny and such a giving actor – I have an improv background as well so it was amazing to bounce off him."
Knuckles meanwhile challenges Sonic in a way no one has before, helping our young hedgehog realise what it means to be a true hero.
For director Jeff Fowler, British actor Elba was the right man for the job of bringing Sonic's foil to life: "Knuckles' entire existence is about discipline and the way of the warrior – which is a great comedic contrast to Sonic who is very jokey.
"Idris brings so much of that to the character. His voice his such gravitas and dramatic weight, which is what we wanted. Knuckles is also a serious challenger, and so we wanted fans to take him seriously. It's the ultimate rivalry!"
It's clear that the Sonic The Hedgehog films are made by fans of the games and one of the many ways that passion shines through is via the numerous Easter eggs hidden within the movie.
Schwartz says this how they "reward the fans that have been obsessed with Sonic since the first game was released", adding that they sneak in references wherever they can.
Fowler hopes it provides a fun challenge for those who want to try uncover them all: "There's different levels of difficulty, from obvious ones casual Sonic fans would get to deeply hidden Easter eggs. That's where the fun really is, as we couldn't make it easy!
"We all love putting them in as we know fans will go through it with a fine toothcomb, frame by frame, seeing if they can spot everything. And then it's straight to the Reddit boards!"
The team best get their thinking caps on in regards to Easter eggs as they will have to come up with more for the threequel, which has already been commissioned. And then there's the Knuckles TV series that's already in the works too!
Fowler keeps his cards close to his chest when we ask where the third film might take Sonic, only teasing that the video games hold the clues:
"We have been thinking of ideas and looking at the linear progression of the games – not that we are sticking to that blueprint, there are opportunities to jump around if it makes sense for the movies.
"Sonic has been around for over 30 years, so it's like Marvel, with lots of material to pull from."
Schwartz is on board for whatever they have planned next saying, "I will play the character as long as they will have me, hoping that my voice never fails me".
When we tell him about our hopes that the likes of Metal Sonic and Amy Rose will soon pop up, he's incredibly enthusiastic: "Those characters are incredible and definitely on my list.
"What's exciting for me is that we are also doing this TV show, so there's a whole world any side character can be a part of – it's not just the major ones! The ideas they are discussing for the future are great. It's going to be so much fun."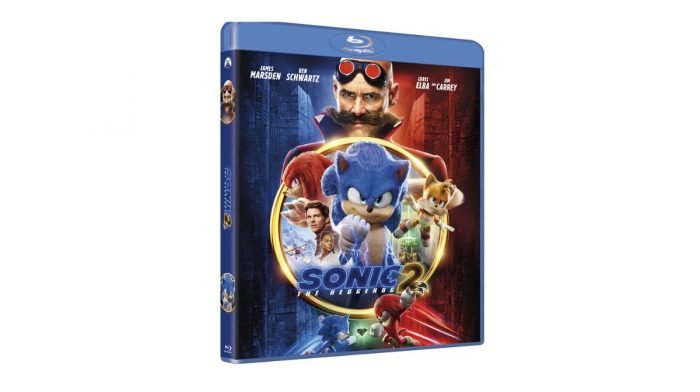 In this month's issue of our free digital magazine The Lowdown we are giving you the chance to win a Sonic The Hedgehog 2 prize bundle which includes the film on Blu-ray. Find out more here!
Sonic The Hedgehog 2 is out now on home entertainment.