The world of cosplay is occupied by all sorts of colourful characters. Drawing inspiration from a variety of franchises, cosplayers have been improving their costume-making skills over the years, showing off their creations at special events (such as Comic-Con and Anime Expo) and on social media.
We've taken a look at the most frequently used hashtags on Instagram to see which characters and franchises are the most popular to cosplay right now.
Some of the results might surprise you.
1) Harley Quinn – #641,182
Providing a decisive win for DC Comics, the Clown Princess Of Crime has taken the top spot with a whopping 641,182 hashtags.
In recent years, Harleen Quinzel has stepped out of the Joker's shadow and proven herself to be a formidable character in her own right. Appearances in live-action films such as director David Ayer's Suicide Squad (2016) and Cathy Yan's Birds Of Prey (2020) — in which Margot Robbie starred in the role — have provided cosplayers with even more incentive to embrace their wild side, deviating from the traditional red-and-black jumpsuit.
When asked what makes Harley such a great character to embody, cosplayer @infamousbylaura said: "She's quirky, funny, bold, resilient and unapologetic. These are all qualities that I love to portray. Cosplay isn't just skin deep!"
2) Spider-Man – #489,267
Swinging in from the Big Apple, Spider-Man takes second place for Marvel. Red and blue will never go out of fashion, and the popularity of the Spider-Verse — which has placed characters such as Miles Morales in the spotlight — provides plenty of opportunities to get creative.
@christianpillirone offered his thoughts on cosplaying as the Web-Slinger: "I do especially enjoy how dynamic Spider-Man can be when it comes to posing."
3) Joker – #279,279
Joining his on-off partner in crime (Harley Quinn), the Joker has made it into the top three. With a smile on his face and a crowbar in hand, Batman's greatest nemesis knows how to make an entrance at any event.
Years of appearances in comics, film, and television have provided plenty of source material for cosplayers to draw inspiration from. @allornothingcosplay said: "It's a cosplay that never stops evolving because of improving my make-up/hair skills and an unlimited amount of Joker variant cosplays."
4) Batman – #249,553
With so many Batverse characters featuring on this list, it comes as no surprise that the Dark Knight himself is up there alongside his villains. One of the most iconic superheroes in history, Batman continues to be reimagined for different adaptations, such as director Matt Reeves upcoming The Batman (which sees Robert Pattinson donning a new cape and cowl).
@foggyknight14 said: "I remember being a little boy watching Batman: The Animated Series [and] running around with a black towel around my neck pretending to be Batman. Every time I wear the suit it is truly a childhood dream for me."
@wackmatters added: "[Batman] has an indelible legacy, and I strive to represent that legacy when I put on his suit."
5) Deku – #224,429
The popularity of manga and anime continues to rise, which can be seen with My Hero Academia's own Deku (also known as Izuku Midoriya) strolling casually into the fifth position on this list. Much like many cosplayers, Deku wants nothing more than to embrace his heroic side.
@echow_eko said that Deku is a personal favourite of theirs to cosplay: "I like his personality… never give up, give positive vibes."
6) Deadpool – #185,340
Debuting in The New Mutants #98, Deadpool has been around since the early '90s. However, he has catapulted to mainstream popularity following the release of 2016's Deadpool movie and its 2018 sequel. Actor Ryan Reynolds' hilarious performance and sleek-looking costume have resonated with the cosplay community.
@the_deadly_pool said: "Since the [Deadpool] movie came out and Costume Replica Cave started making movie accurate suits, I was HOOKED!"
They also mentioned how the character has helped them in their personal life: "He was the first LGBT character that really spoke to me. I identify as pansexual and Deadpool also does."
7) Todoroki – #177,161
Shoto Todoroki, another My Hero Academia character, is a fantastic choice for any cosplayer. His unique red-and-white hair colour makes him immediately stand out from the crowd, offering a simple yet striking appearance.
@clow_shirow said: "Being able to recreate the stories I love in the real world is a beautiful way of putting my artistic skills into something."
8) Wonder Woman – #172,511
Another member of the DC trinity, Wonder Woman remains one of the most influential female superheroes in history. Her warrior aesthetic combined with an unyielding sense of morality empowers people to be their best selves.
@snarkyjaycosplay said: "I also love that she stands for hope, honesty, and justice — she's a hero that I aspire to be more like."
9) Bakugou – #147,600
The last My Hero Academia character in our top ten is Katsuki Bakugou with 147,600 hashtags. His outfit is just as explosive as his name, so it comes as no surprise that cosplayers are eager to put their costume-making skills to the test.
@lorentz_iwood (who has been seen rocking a Bakugou costume) had this to say about cosplay: "I want to show the community that there's enough opportunity for everyone. I understand we all can't be number one — I'm speaking for myself as well — but we can all help each other grow."
10) Poison Ivy – #128,143
In recent years, Poison Ivy has grown (no pun intended) in popularity. This can partly be attributed to her visually captivating appearance — often seen with red hair and green skin — and the multi-layered aspects of her character. She is a proponent of environmentalism as well as the LGBTQ community.
@itsannamargaret said: "Sometimes I'm drawn to their look or costume first, but I typically have to really like the character to take the time to cosplay them! I am wildly passionate about the environment, so I relate to Poison Ivy in that way."
Top 20 Most Popular Characters To Cosplay
In addition to the top ten, franchises such as Star Wars and Naruto have also become popular, with a large number of cosplayers dressing up as Hinata (Naruto) and Rey (Star Wars).
The Full Breakdown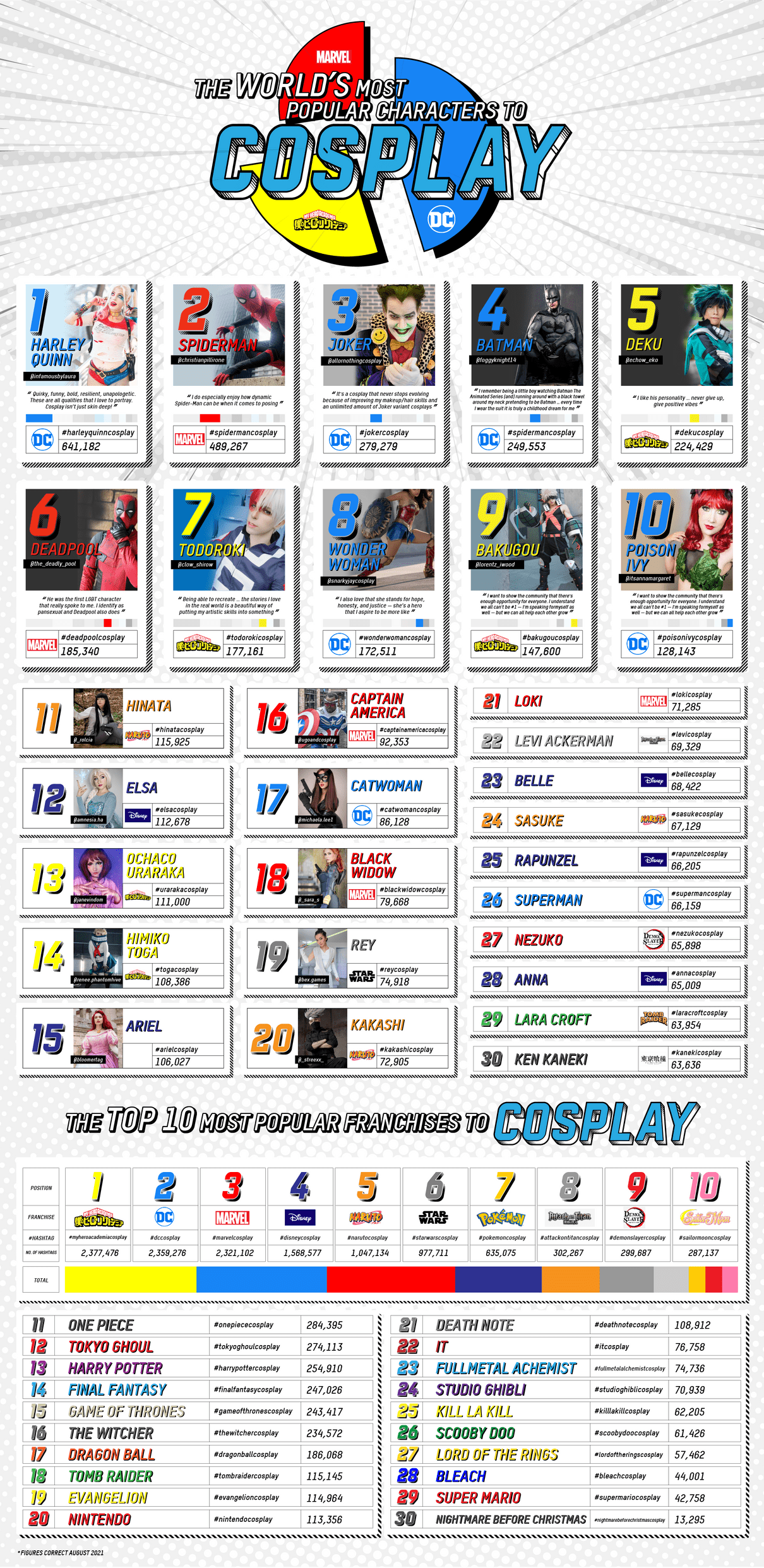 For all things pop culture and the latest news, follow us on Instagram, Twitter, Facebook, YouTube, and TikTok.