Warning: this article features spoilers for episode four of The Boys season three.
After its three-episode premiere last week, The Boys has kicked into its weekly release mode and episode four doesn't disappoint.
Fans will know by now that the show is incredibly faithful to the extreme source material, while also making sure it has an original feeling too.
Episode one, Payback, really set the tone for the new season thanks to its hilariously debauched opening with the show's own take on those Ant-Man/Thanos jokes.
But now that episode four has arrived, it's time to talk about yet another perverted moment from the season: the dildo fight.
Honestly, it's a miracle that Prime Video lets creator Eric Kripke and the writers get away with some of their ideas, but it just proves that The Boys has been so successful that the studio recognises the value in the show's signature devilish nature.
The episode sees Butcher, Hughie, and the gang head to Russia in search of a weapon that might kill Homelander (Antony Starr) once and for all.
However, to get more information on this mysterious weapon they have to do a job for Frenchie's old boss, Little Nina (Katia Winter).
They send Kimiko (Karen Fukuhara) into a Russian gangster's mansion under the disguise of an escort, and once she finds him with his guard down (alongside a collection of other girls), she assassinates him using a variety of The Seven themed dildos. Why not hey?!
When we spoke to Fukuhara about the scene, she joked about possibly setting up a new cinematic trend: "This might be the start of something new! We might see this in all the action movies. Marvel? Dildos. John Wick? Dildos. I had a lot of fun doing it."
However, she also explained that the various dildos were actually challenging to use when filming the fast-paced fight scene – and they were also pretty distracting:
"The technical aspects are actually pretty difficult. They resemble Kali sticks and it's not an easy thing to learn… It's so funny, you know, we broke so many times on set because I'm swinging them around in all the stunt actors' faces and they have to be very serious about it."
What makes the whole scene even better is the fact that each dildo has its own name: "They have specific names for each of the dildos, the props team was amazing in creating them. I think one of them is 'Black Noir's Silent Screamer'!"
Which is ironic since the gangsters are anything but silent when Kimiko impales them with the impressive array of dildos.
The Starlight version of the sex toy even vibrates when it's stuck in someone's neck, which is quite frankly hilarious.
Fukuhara also joked that there's probably a market out there for the sex toys in real life: "I mean, Amazon should produce these and sell them because I'm sure there's a market out there. Who needs action figures when you can have super dildos?" It's a valid point.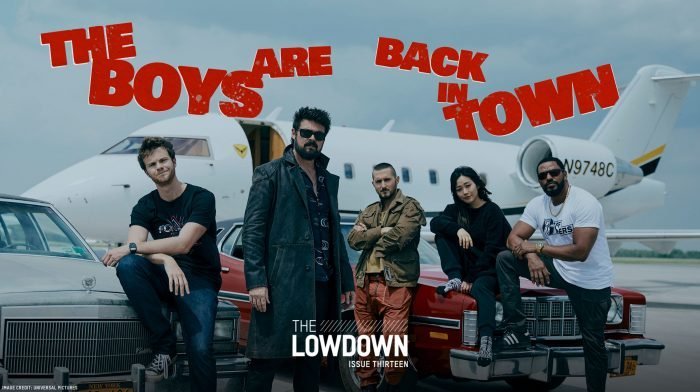 Read our full interviews with the cast and crew of The Boys in the latest issue of our free digital magazine The Lowdown.
The Boys airs weekly on Prime Video.