If you were concerned about the future of the Marvel Cinematic Universe (MCU) following the end of The Infinity Saga, well now you know you were silly to even be slightly worried in the first place.
Marvel Studios returned to Hall H at San Diego Comic-Con (SDCC) last night in epic style, unveiling a jam-packed and awesome Phase Four slate… well the first part of it.
President Kevin Feige and his team brought their A game announcing numerous projects which has got us very, very, very excited here at Zavvi HQ.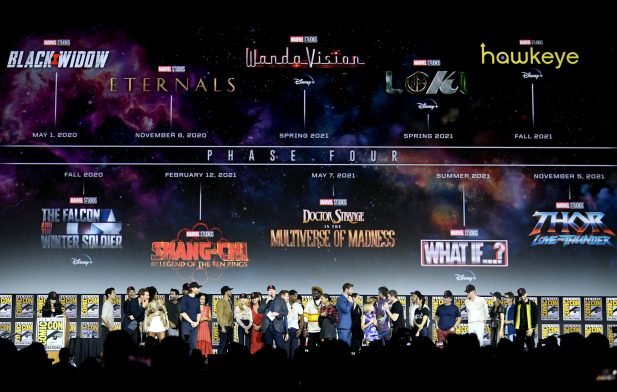 Feige confirmed for the very first time television shows will officially be a part of the MCU and tie into the movies, as he announced various projects which will hit the new streaming service Disney+.
The Marvel boss also confirmed several films which were rumoured, revealing release dates, casting announcements and plot details for some of them.
At the end of the panel he also teased other projects which will arrive in the future, and although we don't have too many details about these yet, we expect to hear more about them soon, maybe at the upcoming D23 Expo in August.
Here is everything Marvel Studios announced at SDCC, the projects which will form Phase Four and arrive on our screens over the next few years.
Black Widow – 1st May 2020
Kicking off Phase Four is Black Widow's stand-alone film which will look into the character's past and see the return of Scarlett Johansson in the title role. She told Hall H last night 'I'm looking forward to knocking out some of that red in my ledger.'
Directed by Cate Shortland, the film will also star Midsommar's Florence Pugh as 'sister-figure' Yelena, Stranger Things' David Harbour as Alexei/The Red Guardian and Rachel Weisz as a mysterious 'tough chick'.
Hall H were shown footage of the movie which featured Taskmaster as the villain and was set in Budapest.
The Falcon and the Winter Solider – Disney+ Autumn 2020
The first MCU show hitting Disney+ will be The Falcon and the Winter Solider, starring Anthony Mackie and Sebastian Stan.
Daniel Brühl's Zemo from Captain America: Civil War will return for the series, this time wearing a purple mask as per the comics.
His character told our heroes in a teaser 'gentlemen, I'll be seeing you very soon'.
Eternals – 6th November 2020
Directed by Chloe Zhao, Eternals will star Richard Madden as Ikaris, Angelina Jolie as Thena, Kumail Nanjiani as Kingo, Lauren Ridloff as Makkari, Brian Tyree Henry as Phastos, Don Lee as Gilgamesh, Lia McHugh as Sprite and Salma Hayek as Ajak.
Created by legendary comic book writer Jack Kirby, the Eternals are immortal and ancient aliens created by the Celestials, designed to defend Earth from threat.
Shang-Chi And The Legend Of The Ten Rings – 12th February 2021
Directed by Short Term 12's Destin Daniel Cretton, this film will feature Marvel's very first Asian lead, Simu Liu as Shang-Chi.
Awkwafina will also star in the movie which will see the Master of Kung-Fu battle the real Mandarin played by Tony Leung, so not Trevor Slattery from Iron Man 3.
Cretton discussed the importance of representation during the Hall H panel adding 'to be a small part in that is really special for me'.
WandaVision – Disney+ Spring 2021
Scarlett Witch (Elizabeth Olsen) and Vision (Paul Bettany) are getting their own show which will be set after Avengers: Endgame and promises to be 'weird'.
Bettany admitted to the crowd he 'doesn't know' what is going on with his character who was killed by Thanos in Avengers: Infinity War.
Teyonah Parris also joins the cast as an adult Monica Rambeau, the kid from Captain Marvel.
Loki – Disney+ Spring 2021
The God of Mischief is back as Tom Hiddleston's Loki is getting his own show!
It will follow a runaway Loki after he escapes with the Tesseract in the 2012 events in Avengers: Endgame.
Doctor Strange In The Multiverse Of Madness – 7th May 2021
Benedict Cumberbatch's Master of the Mystic Arts is getting a second solo outing which will also feature Scarlett Witch.
Returning director Scott Derrickson promises it will be 'the first scary MCU film' and tie into the WandaVision show.
What If…? – Disney+ Summer 2021
This animated series will star Jeffrey Wright as The Watcher who narrates a look at Marvel's history, delving deep into alternative possibilities and what could have been.
Many MCU actors will be reprising their roles including Samuel L. Jackson, Chris Hemsworth, Hayley Atwell and Paul Rudd, making the voice cast for this show incredible.
Hawkeye – Disney+ Autumn 2021
Jeremy Renner's Hawkeye will pass on the torch to Kate Bishop in this Disney+ show, the last one announced yesterday by Marvel Studios.
Described as an 'event series', the show will complete the character's story arc.
Thor: Love And Thunder – 5th November 2021
Thor: Ragnarok director Taika Waititi is returning for the fourth Thor film which will star Chris Hemsworth.
Now ruling Asgard, Tessa Thompson's Valkyrie will 'find her queen' and Natalie Portman's Jane Foster will return, this time as female Thor.
For us this is the most exciting announcement Marvel made last night. Bring on female Thor!
Blade
Vampire hunter Blade will join the MCU played by the fantastic Mahershala Ali. A release date is yet to be confirmed for this project.
Black Panther 2
At the end of the panel Feige confirmed Black Panther 2 is happening and hopefully we will have more details soon.
Captain Marvel 2
Feige also revealed Captain Marvel will be getting a sequel, but didn't reveal anything else about the film.
Guardians of the Galaxy: Vol 3
Guardians of the Galaxy: Vol 3 was also confirmed last night and will see the return of director James Gunn who was initially fired from the project. He is finishing The Suicide Squad first.
The Fantastic Four
Following Disney's acquisition of Fox, The Fantastic Four will join the MCU. Feige briefly mentioned them at the end of the panel, teasing the crowd.
'Mutants'
At the very end of the panel Feige told a cheering crowd 'and there's no time left to talk about mutants'.
So 'mutants' will be joining the MCU. We have no idea who, how, what or when, but we are excited about it!