Clint Barton is no longer the only kick-ass archer in the MCU.
The first trailer for the upcoming Disney+ series starring Jeremy Renner has introduced fans to Kate Bishop, Hawkeye's teenage counterpart. In the show she will be played by Hailee Steinfeld (Dickinson, Bumblebee).
The series, which will also feature Florence Pugh reprising her Black Widow role, will see the two archers team up to fight enemies from Clint's Ronin past. But who is Kate Bishop?
We've put together a quick guide of everything you need to know.
Comic Book Origins
Kate Bishop made her debut in the first issue of Young Avengers in 2005. After being attacked in Central Park, she trained in archery and martial arts, which naturally led her to become a member of the superhero team.
In the comics, she bumps into the Young Avengers by chance, practically forcing herself into the team after turning up in an outfit inspired by Hawkeye's (she's quite the fan).
She's also, it should be noted, incredibly rich, with her family's wealth being a crucial factor in how the Young Avengers were founded.
What Powers Does Kate Bishop Have?
Like Hawkeye, Kate's greatest strength is her archery skills, although her courage in battling against foes despite a lack of superpowers is pretty commendable.
In the comics, she is occasionally seen with a sword or a pair of twin staves, but a bow and arrow is her go-to weapon of choice.
Who Are Kate Bishop's Enemies?
She may not have powers, but there are several villains Kate routinely faces off against in the comics. These include her father, the crime lord Derek Bishop, and her main enemy Madame Masque, who is best described as 'Evil Hawkeye'.
Reports suggest that in the upcoming series, Kazi (also known as The Clown) will be one of the central villains Kate will face off against.
Does She Have Any Other Connections To Hawkeye?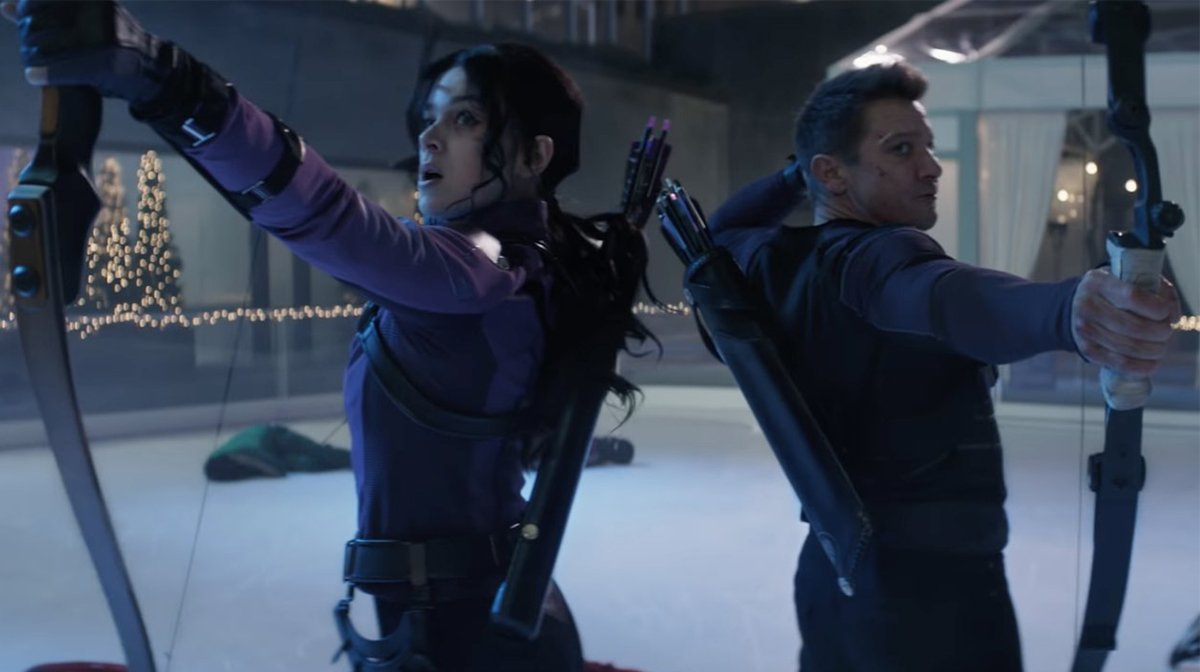 Like all of the Young Avengers, Kate has no direct connection to the hero she shares a name with, and as Hawkeye was dead at the time she chose the name, felt it was okay to pick up the mantle.
A running joke in the comics is that, when Clint does return, he gets referred to as 'HawkGuy'.
The pair have a close relationship in the comics, with Clint becoming her mentor. Eventually however, Kate goes on to find her own destiny, most recently going on a solo trip to California.
In the films, many speculated Clint's daughter would become the new Hawkeye – she was shown training in archery in Endgame, after all.
Instead, it seems the series will take a different direction, and introduce a long established character yet to be seen in the MCU with Clint set to pass on the baton to Kate Bishop in the show.
Hawkeye debuts on Disney+ 24th November.