When highly anticipated sequel Doctor Strange In The Multiverse Of Madness was first announced, we were promised that it would be the first horror film within the Marvel Cinematic Universe (MCU).
Since then those involved with the project have tempered their comments on whether it is indeed a horror film, leaving fans with mixed messages on what to expect from the movie.
However, star Benedict Cumberbatch has recently revealed that whilst Multiverse Of Madness isn't an all-out horror, it "will be the most frightening Marvel movie of all-time".
Speaking to Zavvi he confirmed: "Whilst this will be the most frightening Marvel movie of all-time, that doesn't put it in the same league as the likes of The Shining.
"It's darker in tone with lots of jump scares and schlock horror, but also playful. This is a Sam Raimi movie so lots of his trademarks are here."
Fans will also be happy to hear those words – "this is a Sam Raimi movie" – as the beloved Spider-Man director makes a long-awaited return to the superhero genre.
And of course, Raimi is no stranger to horror, having made the iconic Evil Dead and many more. He admitted to us he couldn't wait to flex those horror muscles on this movie:
"When Kevin Feige decided to make this film, he wanted it to be Marvel's first entry into the horror genre so he said to me 'let's make it spooky and scary'.
"My previous experience with low-budget horror provided me with knowledge about how to build suspense and deliver scares, which I employed here. It was a lot of fun blending together the two genres of superhero and horror.
"And Marvel let me have my vision out there, which was really refreshing. Maybe if I wanted to shake audiences to the core of their foundations with really horrific imagery, maybe they would have said 'woah', but that wasn't my goal. I wanted to tell the next chapter of this saga in the right way."
For more from our interviews with Benedict Cumberbatch and Sam Raimi, as well as Michael Waldron, check out the latest issue of our free digital magazine The Lowdown.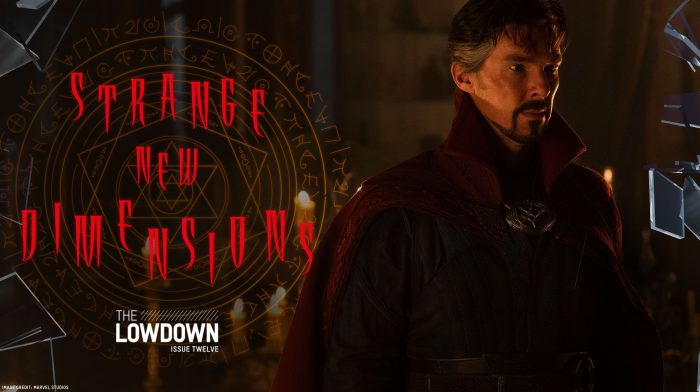 Doctor Strange In The Multiverse Of Madness releases in UK cinemas from 5th May.