August 2020 brought news that stunned the whole world – the death of Chadwick Boseman, a man who truly was somebody special.
As an actor, he delivered great performances in the likes of Get On Up and Da 5 Bloods, but his defining role was that of T'Challa, the Black Panther, the king of Wakanda, bringing to the character the warmth, charm, and integrity that only Boseman could.
He simply was T'Challa and there's no doubting the huge impact that character, that performance, and that first Black Panther film had.
At some point then the question had to be asked: what was going to happen with the franchise? A sequel was already in development and T'Challa was a key figure in the MCU, so all eyes turned to head honcho Kevin Feige who made the swift – and right – choice not to recast the role.
The decision of what to do with the sequel was left in the hands of director Ryan Coogler and his team, who all needed to take a step back to figure it out.
Cancelling the project would have been an easy and understandable move, but as producer Nate Moore says, that's simply not what Boseman would have wanted. And so, no matter how difficult it was, they kept going.
Speaking to Zavvi, Moore explained: "Those were never real conversations, but you certainly thought about it. From my point of view, that's not what Chadwick would have wanted – more than anyone he knew what Wakanda could mean and what it does mean for people.
"We could have stopped, it would have made sense, but he wouldn't say 'hey, I'm not here, so don't do it' – instead he would be like 'hey, I'm not here, but it's still meaningful'.
"And that's part of the grieving process, it doesn't have to stop you in your tracks, it may feel like it does, but we all have the capacity to push through grief and find joy on the other side.
"Hopefully that resonates, that we can't let grief stop us, that we have to push through – this film celebrates that idea."
The only way the filmmakers could move forward with the movie was to write a story which reflected what they were going through and so, Wakanda Forever sees a nation mourning, grieving, and struggling to forge a new path in the wake of their king's death.
Not only does it pay tribute to Boseman, but it also honours the grief the cast and crew were facing, bringing rawness and authenticity.
It's a different story to the one they originally planned, but as Moore emphasises, the shift following Boseman's death was essential:
"It's no secret that we had a draft written before he passed that was very different thematically, but we had to figure out a way forward and the only honest thing we could do is deal with that.
"Almost all of this film is shaped by it. Ryan figured out how to tell a story that is truthful to the characters and the performers.
"People make these films, and these people have relationships with Chadwick, so it was about how to tell a story that doesn't ignore the very real loss we all felt."
In the latest edition of our free digital magazine The Lowdown, we dive into how the franchise's next chapter took shape with the help of Moore, Letitia Wright (Shuri), Danai Gurira (Okoye), and Tenoch Huerta Mejía (Namor).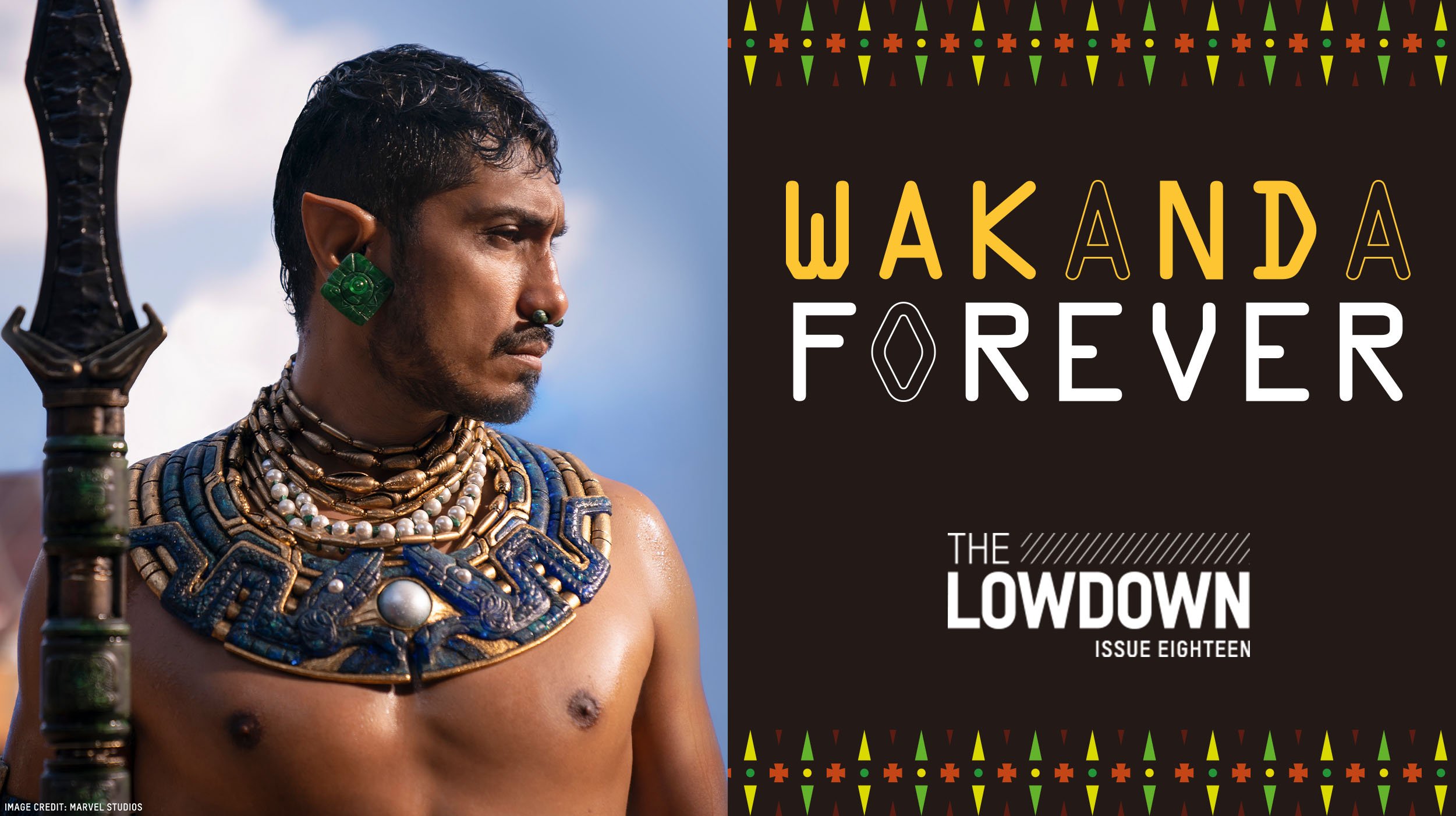 Check out the full article here.
Black Panther: Wakanda Forever releases in cinemas on 11th November.