Director Domee Shi has quickly risen through the ranks at Pixar. Joining the animation studio as a storyboard artist on Inside Out, she soon helmed short film Bao in 2018.
Premiering in front of The Incredibles 2, this story of a mother and her son (who just so happened to be a dumpling) attracted universal acclaim, becoming even more discussed than the feature it played before.
Not only was Shi the first woman to direct a Pixar short, but the Chinese-Canadian filmmaker would go on to become the first woman of colour to win the Oscar for Best Animated Short Film.
Naturally, many people at the studio saw her as the future of Pixar – not least Lindsey Collins, who was "practically begging" the first-time director to take her on as a producer after hearing her pitch for a film that, at that point, was simply called Red.
"Working with Domee is great, as she's constantly questioning the conventional way we make films", Collins told Zavvi. "Anybody who has seen Bao gets a glimpse at what she's like as a filmmaker; it's different, shocking, surprising, and unapologetic in its boldness.
"As a producer, that's all you want from a director; an amazing storyteller, who has a distinct vision, and knows exactly what they want."
Turning Red is a personal story for its director in the loosest sense. Set in Toronto in 2002, the film follows Meilin 'Mei' Lee (newcomer Rosalie Chiang), a 13-year-old girl who lives two separate lives; boisterous and adventurous when out in the world with her friends, but the exact opposite when back at home, living with her overprotective mother Ming (Sandra Oh).
Things become more awkward when one day Mei wakes up and finds that she's transformed into a giant red panda – something she will keep morphing back to whenever she gets emotional. It's a coming-of-age story about the most embarrassing time in our lives, as we grow older and find our bodies are changing beyond our control.
Naturally, in a film aimed at young audiences, the director had to tread carefully around the subject.
"The beauty of animation is that you're able to talk about adult topics, but disguise them in a colourful, entertaining, and in this case, furry metaphor", Shi explained to Zavvi. "For me, the red panda was the perfect metaphor for a girl going through puberty; the colour itself reminds you of all the things associated with that time – getting your first period, flushing red with anger, embarrassment, and lust for your school crush.
"The heart of the story was there from the beginning. It was always about a girl who goes through magical puberty one day, and poofs into a giant red panda whenever she gets worked up or emotional – the struggle to control and embrace this wild beast growing inside of her.
"The specific details have changed over the course of the four years we worked on it – the idea of this being a hereditary curse going all the way back to her ancestors, and how the story becomes a clearer metaphor for womanhood came a lot later in the writing process. But the one thing that always stayed the same was the panda!"
Shi is now the first woman to have sole directorial credit on a Pixar film (Brenda Chapman, the credited co-director on Brave, exited that project halfway through production), and was tasked with making the studio's first film with an Asian lead character to boot.
The experience proved "super daunting" for the filmmaker, although you likely wouldn't know it if you worked with her, as Shi strived to stretch the limits of what was possible with CGI animation – some senior animators have commented that she asked them to do things no other director ever has before.
To reflect Shi's own pop culture obsessions from when she was 13, the story heavily draws influence from turn of the millennium boybands and anime. For the former, Billie Eilish and Finneas O'Connell were recruited to write songs for the fictional boyband 4*Town, with O'Connell lending his vocals to perform as one of the group's five members – yes, you read that correctly, nobody knows why they're not just called 5*Town.
But it was the latter influence that has helped Turning Red feel distinct from other Pixar projects, utilising a hyper intensive visual sensibility to blur the lines between 2D anime and 3D animation. In typical anime style, facial expressions are pushed beyond their limits when characters are embarrassed, sad, or scared – with wide open eyes, and faces flooding with tears.
Surprisingly, this was harder to pull off than you may realise.
"The whole animation style is a departure from other Pixar films", Shi continued. "It's definitely cartoonier.
"Asking an animator to keep a character's body completely still and only move their arm for comedic effect, when they've been taught to 'keep the body alive', took a lot of training – but I wanted to make sure every visual gag landed in a way that was as funny as possible."
"When we were pitching a lot of these stylistic ideas to [Pixar CCO and director of Monsters Inc., Up and Inside Out] Pete Docter, he'd come back with concerns about how we were going to pull it off", Collins added.
"But we never took this as a no, so much as a challenge to see if we could do it – we needed to put it into action and prove to him why all of these stylistic choices were the right decisions for the story.
"This was a great example of where my experience and Domee's boldness worked together really well. It helped the studio get on board quickly."
But don't be mistaken: this may look different to your usual Pixar adventure, but some things stay the same. You will likely find yourself welling up at the movie, and Shi wouldn't have it any other way – "one of the reasons I went into animation and directing was to get those big, visceral emotions and reactions out of audiences".
And then there's the one thing that ties Turning Red to the rest of the Pixar universe – the Pizza Planet truck that the studio's animation team hides in every one of their films. Without giving the game away, it's visible in the Toronto streets during the film's third act.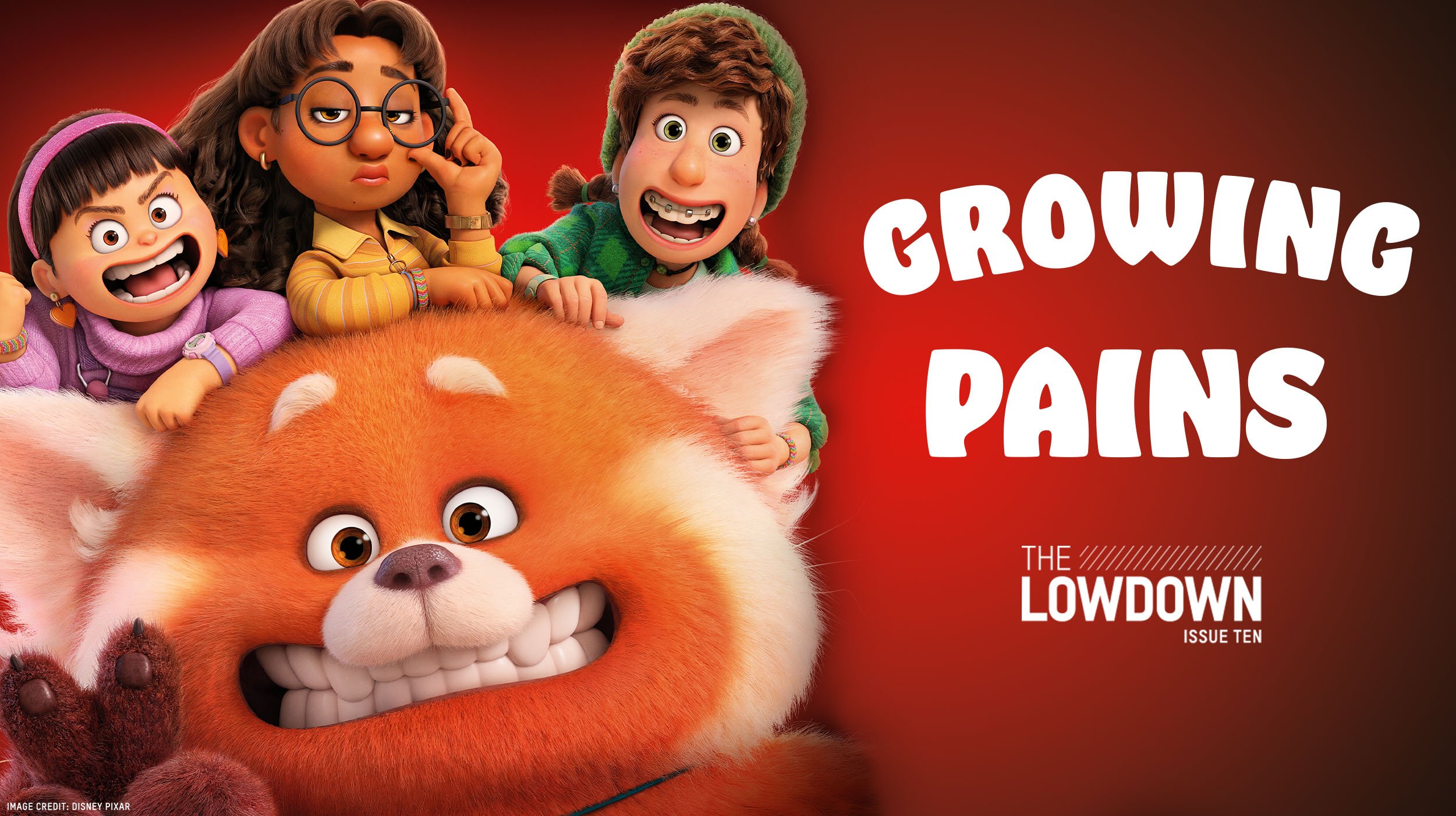 "Sometimes when making a movie, it gets to the final stage and you start thinking 'oh no, we've forgotten to sneak it in there'", Collins continued, "but the animation team is always one step ahead of us – it's often hiding there for ages without us knowing!"
Turning Red breaks a lot of new ground for the animation studio, in terms of story and visual style, as well as regarding who makes up the behind the scenes creative team. But it still delivers exactly what you'd want from a Pixar coming-of-age adventure – you'll laugh, you'll cringe, and you'll most definitely have something in your eye by the end.
Turning Red hits Disney+ Friday 11th March.