With his latest movie Vortex, director Gaspar Noe wants to make you cry.
The latest feature from the controversial Argentinian filmmaker, who has shocked audiences for more than two decades with everything from grisly rape-revenge dramas (Irreversible) to 3D porn films (Love), has been described in almost every review as his most "mature" work to date.
Gone are the incessant strobe lights, the graphic sex, and the violence – in their place is something more tender: a quiet character study that follows a frail elderly couple (played by Dario Argento and Françoise Lebrun) as they confront terminal illness.
For a filmmaker whose work usually receives divisive reactions, the universal acclaim has taken him by surprise – although he is glad to see that audiences are being moved by the film.
Speaking to Zavvi, Noe revealed: "I've always loved when people tell me that they hate my movies. Most movies are boring, so when people have that reaction, that's news – and I feel the same way when people tell me they've been moved by this.
"I really enjoyed seeing people fainting during screenings of Irreversible and Climax, but now I'm loving seeing people coming straight out of Vortex and rushing straight to the toilets. You can always tell that they're hiding in there until they've finished crying.
"When these things happen to you in life, you cry a lot – if you can't make people cry along with you when telling this story on-screen, then you haven't succeeded as a filmmaker.
"I cry at movies a lot, especially on planes, but I think that's because it's where we're at our most fragile. We're up in the air and telling ourselves that we're not deeply afraid of falling."
Noe's films always generate intense emotional responses (he jokes that the only response he's glad to have not triggered is someone having a heart attack), but according to the director part of Vortex's effectiveness is the fact its his first "universal" film.
"The reason critics have liked this one is because most of them are over 40. They have parents in similar situations, so it's quite hard not to identify with the characters of the story.
"Plus, this was never a movie designed to shock anybody – I never felt the need to put in sex and drugs to make it more commercial.
"More people have liked this than my other movies, but it has not been a commercial success in France, and I think it's because of the funny relationship we have to seeing death on-screen.
"We're fine going to watch Titanic knowing that the characters will die, but when dealt with like this, it scares a lot of people."
Noe's own mother died of dementia eight years ago, with several scenes lifted from his own experiences.
Despite this, he insists the film shouldn't be considered autobiographical: he neither has a child nor a history of addiction like the son in the film (played by Alex Lutz), and instead relates more to Argento's character, an ageing film critic struggling to write his latest book.
The director jokes that, despite some scenes hitting close to home, he couldn't let making the film be a painful experience – "I'm a filmmaker who needs to pay my taxes, I had to accept what was coming."
Conceived following his own near-death experience, a brain haemorrhage in late 2019, Noe made the decision to keep the screenplay brief, and instead depict the final days of his elderly duo largely through improvisation.
Shortly after filming started, Noe decided that the movie would be presented entirely in split-screen, showing the separate final days of the characters side by side, illustrating how "disconnected" they have become from each other.
"I rewatched some videos I had made with my mother. I showed these to Françoise, who doesn't have a personal experience of dementia – her mother is 100 years old and still hasn't lost her mind.
"She was inspired by these, but I wanted her to improvise as much as she could. The key was that I wanted to make sure nobody in the audience could understand her: I needed her to mumble everything she said, and express herself solely with her eyes."
Getting Argento, the iconic director of Suspiria and Phenomena, on board to play the elderly patriarch was a bigger challenge for Noe.
"I've always been envious of Dario's charisma. He's used to being filmed because of it, but what made him accept being in this movie was that I didn't give him any lines.
"I let him improvise and I told him that I wouldn't direct him – he's the big director, the character was entirely in his hands and I was just taking care of the camera."
Another reason Noe believes Vortex has received widespread acclaim from critics in the UK and the US is because it's far more palatable to uptight audiences when compared to his more extreme earlier films.
"In France, when you write a sex scene no producer is calling to ask if you're going to show the male genitals. For me, filming a penis is like filming a finger or a nose.
"We're going into a very conservative period and the way films are financed and distributed has changed. We're losing a lot of sex in cinema because of it – but it's very important in people's lives, why do we now have to hide it behind a curtain on the big screen?"
This might be why in 2020 Noe's film Love became an unexpected TikTok trend, as teenagers filmed themselves reacting to the opening scene after it appeared on Netflix.
"I don't believe the theory that it only became successful because of TikTok", he laughed. "It was the most erotic movie playing on Netflix when we were all stuck in lockdown. People wanted to masturbate instead of watching the news, and for teenagers it was the easiest thing they could find!"
Regardless of why the film became a viral sensation, it still had the unexpected effect of introducing a new generation to Noe's work – and, like with his earlier feature Enter The Void, saw a movie that flopped on release find a new cult audience.
If anything, this means Vortex is the most shocking movie Noe could have made now. Primed for a film rife with sex, drugs, and violence, we've instead got a tender story about facing the abyss, which feels like the work of a different filmmaker altogether.
The critics are right, it really is his most mature work to date.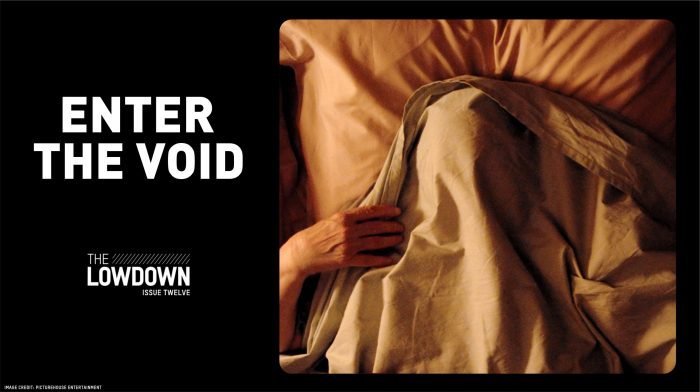 For our chat with lead actress Françoise Lebrun, read the latest issue of our free digital magazine The Lowdown here.