Obi-Wan's return is almost here! Ewan McGregor will be reprising his iconic role from the Star Wars prequel trilogy in an upcoming miniseries for Disney+.
Originally announced as a movie, the underperformance of Solo: A Star Wars Story at the box office had the project reconfigured into a six-part epic for the streaming service.
Filming took place between May and September 2021, with the series set to release at some point in the new year. With no official images released so far, let alone a teaser trailer, there's still lots we don't know about the project.
But some things are confirmed, so we put together our quick guide to everything we know about Obi-Wan Kenobi below.
What's The Plot Of Obi-Wan Kenobi?
The series begins ten years after the events of Revenge Of The Sith, with Obi-Wan watching over the young Luke Skywalker while in exile on Tatooine.
So don't expect any crossovers with The Mandalorian, when it comes to the timeline.
From there, it's unclear where the narrative will go, but producer Kathleen Kennedy has teased that the series will feature the "rematch of the century" as Obi-Wan and Anakin Skywalker, a.k.a. Darth Vader, (Hayden Christensen) go head to head once more, before their final battle in A New Hope.
It's set to be action-packed, with director Deborah Chow (who has helmed several episodes of The Mandalorian) highlighting that this is a dangerous time for the Jedi.
His one job of keeping Luke safe is a lot harder when there are a rising number of Jedi hunters across the galaxy.
Which all means this could be the most explosive adventure to date.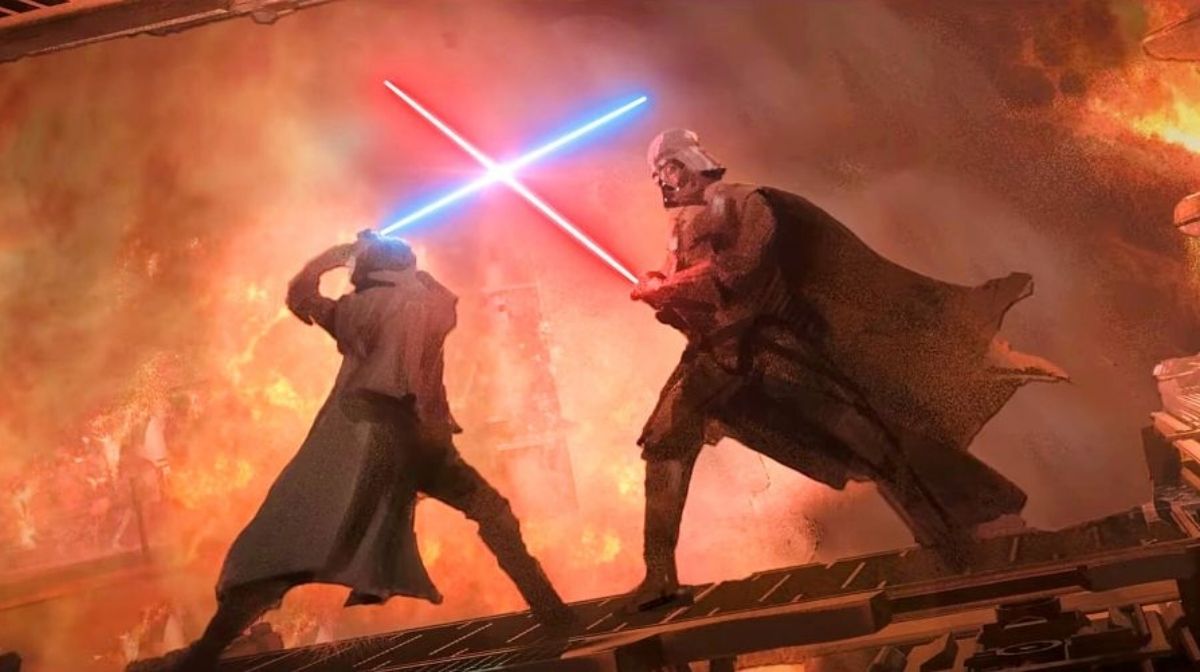 Concept art for the series was released as part of Disney+ Day in November 2021, with the big reveal being that Obi-Wan and Darth Vader will be having an epic rematch following Revenge of the Sith. This would alter Star Wars canon, showing that A New Hope wasn't their first lightsaber battle since the prequel.
In that sizzle reel, the cast and crew all refer to the villain as simply Vader, suggesting that while Christensen may be returning, the man behind the mask won't be.
Other concept art shows Vader's sanctuary in Mustafar, which could be a crucial setting for the galaxy-spanning series.
Who Is In Obi-Wan Kenobi?
As stated above, Ewan McGregor and Hayden Christensen will both be back – with McGregor excited to be returning to the role now he's a lot closer to Alec Guinness in age.
But they won't be the only two actors returning from the prequel trilogy. Bonnie Piesse (Aunt Beru) and Joel Edgerton (Uncle Owen) will both reprise their roles.
As for new additions to the franchise, Kumail Nanjiani, Rupert Friend, O'Shea Jackson Jr, Benny Safdie, Indira Varma, Sung Jang, Maya Erskine, Simone Kessell and Moses Ingram have all been cast in undisclosed roles.
However, leaked set photos from June showed Game Of Thrones star Varma as an Imperial officer. Is she related to the big bad?
McGregor has teased another surprise cast member, who he has described only as "someone special in his life", while doing interviews.
This may make you think of his partner Mary Elizabeth Winstead, with the pair also having previously co-starred in both Fargo and Birds Of Prey. But we will have to wait to see who it actually is!
Is There An Obi-Wan Kenobi Trailer?
As of yet, there is no trailer for the series. But with filming wrapping in September, our first official look won't be (far) far away.
With Disney+ Day taking place on Friday 12th November, it is highly likely that a teaser trailer will premiere then.
When Is The Release Date For Obi-Wan Kenobi?
We still have no idea when the six-part season will premiere, but as filming has wrapped and it's currently in post-production, we're hoping it'll be the first half of 2022 rather than the second.
We'll be keeping this page updated when we hear any news.