Microsoft's E3 2016 press conference didn't disappoint. Two consoles, huge gaming titles, and a collection of new features across multiple Microsoft platforms were all announced in spectacular fashion in Los Angeles. View the conference in full below:
The first thing announced was the Xbox One S – a brand new slimline console. You can read all about it, and pre-order it, here…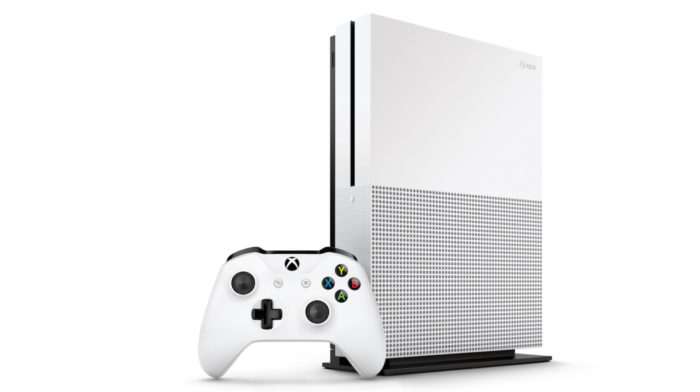 It's the smallest, and most beautiful, Xbox yet.
This wasn't the only console that Microsoft exposed this year. Dubbed 'Project Scorpio' the new console will be able to run games in 4K Ultra HD, and will be Virtual Reality-ready.
Another, more imminent, development will see Xbox One and Windows 10 co-compatibility cross play: Play Anywhere. Microsoft explained that the majority of the upcoming games that are developed, or published by Microsoft will be playable on the Xbox One and on Windows 10 PC. This  means you could start a level on your Xbox, and finish it on your PC! You'll also be able to compete online across platforms. Recore, Forza Horizon 4, and Halo Wars 2 will be the first titles to make use this development.
There was also the announcement of Xbox Clubs, a way of enhancing the online gaming community experience. Explained below, Clubs is a voice and text chat room that can be entered and exited at any time. The 'club' isn't limited to the Xbox; it will be accessible on PC and on the Xbox Live app.
In gaming, State of Decay 2 displayed it's incredible graphics as well as it's impressive multiplayer mode. State Decay wasn't the only announcement from this Zombie genre – the Dead Rising 4 trailer was also showcased.
Catching up from last year, we finally saw some gameplay footage from Recore after a quiet year of announcements from Microsoft. Recore is an upcoming action-adventure video game developed by Comcept and Armature Studio. View the gameplay footage below:
Gears of War 4  followed, undoubtedly one of the biggest gaming stories of E3 2016. Microsoft showcased some aggressive gameplay footage for the first time which you can see below. Forza Horizon 3's official trailer was also revealed…
Just after showcasing new FF XV footage, Microsoft made the Halo Wars 2 Beta instantly available on Xbox Live – which sent Xbox fans around the world into pandemonium. Halo Wars 2 will be available in full  from February 2017.